MBA Open Admission Meeting – 13.10.2021
Do you want to start MBA but have some questions, doubts, do not know how to start? Join the nearest meeting on 13 October 2021 at 6.30 pm!
The International MBA in Strategy, Programme and Project Management at Gdańsk Tech has admission in progress! If you have any questions, doubts related to admission and want to get a quick answer there is a perfect opportunity – join the MBA Director, MBA Coordinator and one of the MBA lecturers at the Zoom meeting. Do not wait and register for the meeting, where the MBA Staff will give you advice and respond for all questions.
Current admission is held for the XIV edition that will start on October/November 2021.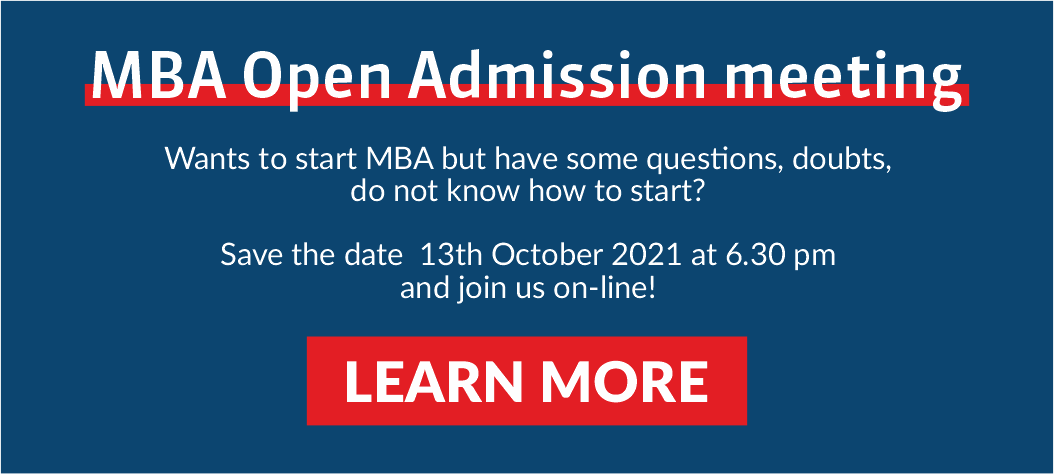 Admission step by step
Check eligibility conditions and send required documents
Applicants to International MBA at Gdańsk Tech should demonstrate:
University degree: a Bachelor or a Master
Fluency in English
Three years' relevant work experience recommended (after university degree completion)
An international applicant from non-EU is required to hold a visa and resident card
All candidates are asked to fulfill the Registration Form or send the documents by e-mail: mba@zie.pg.gda.pl
At this stage the candidate is asked to send the following documents:
Bachelor's or master's degree diploma (first or second cycle studies).
Curriculum vitae
Cover letter
Photocopy of language certificate (if applicable).
Digital copy of current applicant's photo.
Confirmation of payment of the admission fee.
After registering the candidate is invited to online interview.
Take part in an interview (personal or online).
The course of the interview determinates admission to studies. Within the two weeks of the interview, the candidate receives information about the outcome of the admission's procedure.
Candidates are ranked based on motivation and proven interest related to the programme. Motivation letter, in which candidates are expected to outline the main reasons for applying, including the candidates expectations for the programme as well as for their current and future career.
We invite you to apply for MBA studies and wish you all good luck!

Subscribe To Our Newsletter
Join our mailing list to receive the latest news and updates from our team.