International MBA Gdańsk Tech Programme in the world QS Executive MBA Ranking 2022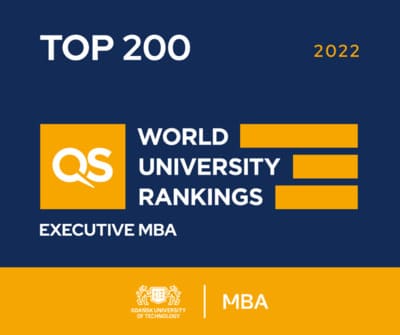 This is the 4th time that our executive International MBA in Strategy, Programme and Project Management was qualified in the the QS World University Ranking. We got scored together with 227 other executive MBA programs from 48 countries.
We are proud to say that in comparison to the previous year, our MBA program obtained higher general score of 38.4 points. The highest increase concerns the category Career Outcomes that refers to salary increase and promotions of MBA Students and Alumni. In this category we got:
– 34th place in European MBA programs
– 72nd place globally
Career Outcomes category results
This indicator is measured by the average salary increase from pre to post program and the percentage of the class receiving promotions within 12 months of graduating.
Our program received 66.1 points in this category – 3.2 points more than in the previous year. This score is also 6.4 more than average result that takes into consideration 191 MBA programs worldwide.
Who is studying on our MBA program?
International MBA Gdansk Tech is classified among the top 55,5% of executive MBA programmes in the world regarding executive profile. More than 60% of our MBA Students are working on C-suite level. In comparison to other MBA programs globally, regarding C-Suite experience indicator we scored 98.1 points, around 38 points more than on average.

Subscribe To Our Newsletter
Join our mailing list to receive the latest news and updates from our team.