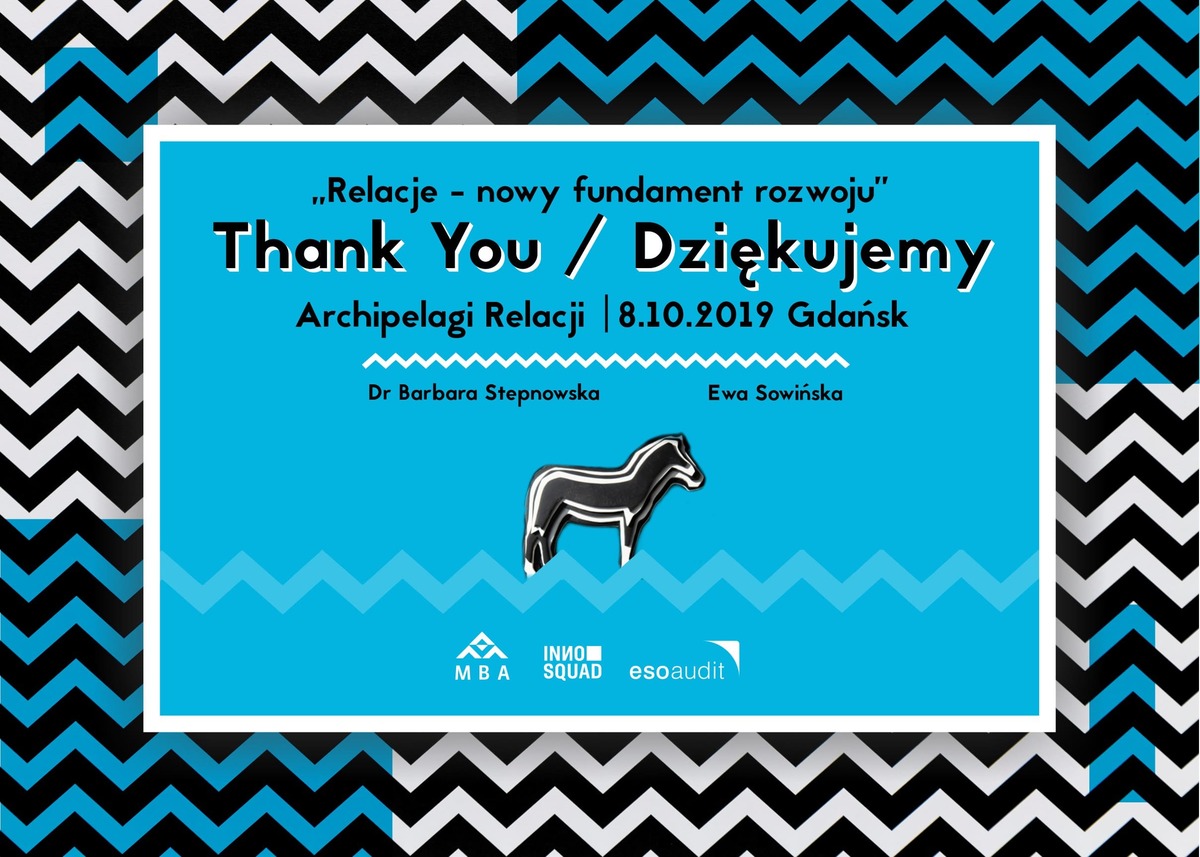 Open Eyes Economy On Tour in Gdansk 2019
There is no development without relations – in business, science, society. MBA GUT as a partner of the event conference that took place on 8 October 2019 in Gdansk.
Relationships – established, strengthened, developed, discussed in various contexts: business, social, personal – were the protagonists of the conference entitled "Relations – A New Foundation for Development", which – as part of the Open Eyes Economy on Tour 2019 – took place on 8 October 2019 in Amber Expo in Gdansk. Business practitioners, academics, local government officials and representatives of non-governmental organizations, nearly 270 people in total, wondered, among others, whether we appreciate the value of relations, what limits us in building them, and how to use their potential for the development of cities, business and education.
At the opening of the conference, Ewa Sowińska, member of the Program Council of Open Eyes Economy, Partner in ESO Audit, a company that was a co-organizer of the event, said: – Thank you for accepting our invitation to participate in the conference and such a numerous presence. It is important for us, because it shows that our actions are needed. We build our meetings on the basis of previously developed and nurtured relationships. This allows us to attract individuals, institutions and companies that wish to develop together around the conference.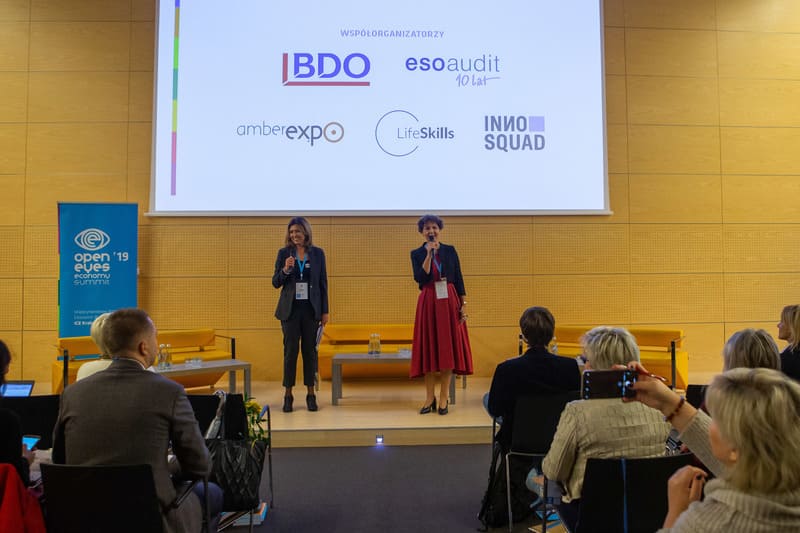 – In Gdansk, as part of the Open Eyes Economy initiative, we meet for the third time, bringing together business, science and art. We open eyes – ours and others – to what is close to all of us, but can disappear from the sight in everyday life. We build archipelagos of relations – said Dr. Barbara Stepnowska, MBA Director of the Gdansk University of Technology, at the Faculty of Management and Economics, partner of the event.
The participants of the event were also greeted by Prof. Julita Wasilczuk, Dean of the Faculty of Management and Economics of the Gdansk University of Technology, emphasizing the importance of building relationships and Prof. Jerzy Hausner, creator and Chairman of the Program Council of Open Eyes Economy Summit.
The conference was divided into three thematic blocks: JOINT BUSINESS – a city in development, EDUCATION THROUGH RELATIONS – by and between and RELATIONSHIP IN IDEA-COMPANY: between man, company and science.
JOINT BUSINESS – a city in development
This part of the conference was inaugurated with a lecture by Prof. Tomasz Szlendak from the Nicolaus Copernicus University in Torun, entitled "The Polish Game of Relations. How we Temper and Torpedo our Potential."
– Poles have a problem with the ray of trust. It is very short. We only trust our loved ones. Although we are very individualistic, we are also good at playing the game of openness. This allows us to cope with the development – said Prof. Tomasz Szlendak at the opening of his presentation.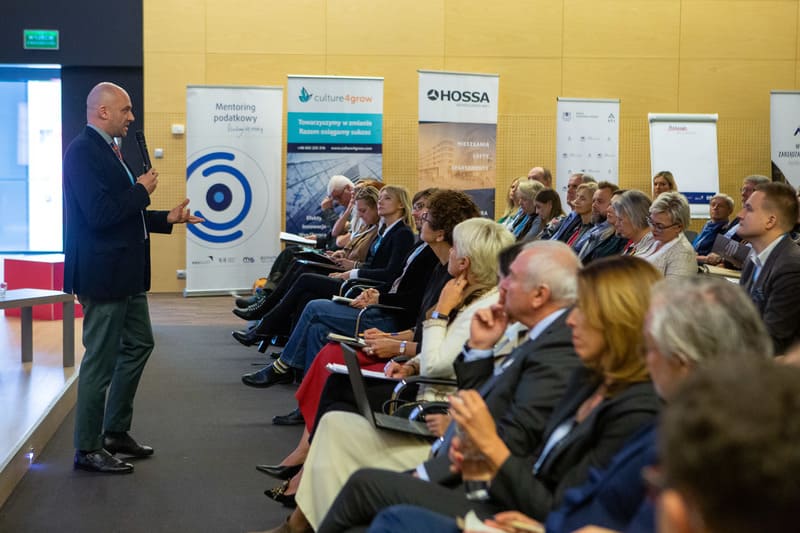 Prof. Szlendak proved that in a world dominated by social media, we are dealing with self-obsession, with the "ME" epidemic. Self-presentation in the web feeds Polish individualism. At the same time, there is a lack of old socialisation institutions such as: a carpet hanger, a bench under a block of flats, which were a natural space for practising social relations. In this context, it is optimistic that the 15+ generation is more excited about meeting other people directly than the 40+ generation when they were teenagers.
Dr. Aneta Chybicka from Culture4Grow spoke about stereotypes in perceiving others, cultivating one's own individuality, emphasizing differences in interpersonal relations, ways of overcoming these phenomena and building a sense of "we" that serves the purpose of cooperation.
The next item on the agenda was a lecture entitled "Ten Rules of Freedom (Not Only Pomeranian Inspirations)" by Prof. Cezary Obracht-Prondzyński from the University of Gdansk.
– True human freedom can only be realised through society. To be a free citizen is to be with others. However, freedom can only be realised if there is a good quality of life. When poverty is present, there is no freedom – emphasized Prof. Obracht-Prondzyński.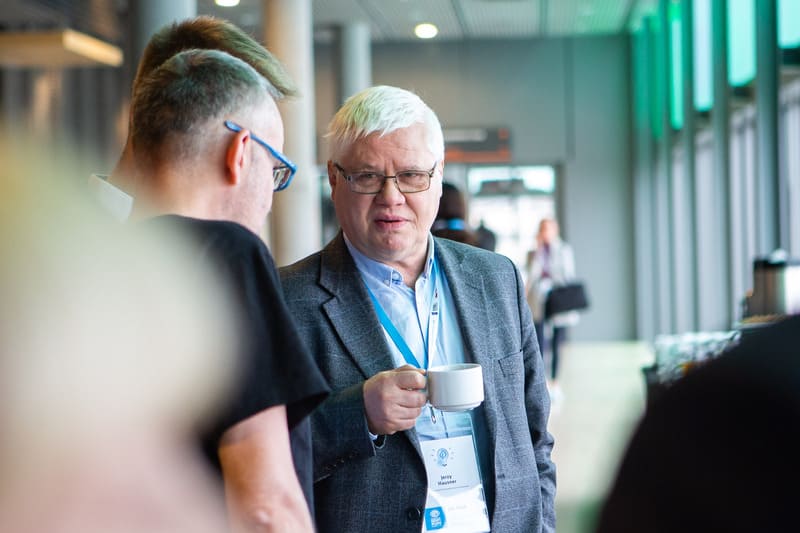 In the debate to which the organizers invited: Dr. Andrè Helin (BDO), Dariusz Kubasik (Sevenet), Dorota Markiewicz-Kubik (Farm Frites Poland), Marta Moksa (Olivia Business Centre, Andrzej Bojanowski (Gdansk International Fair) and Mateusz Zmyślony (OEES, ESKADRA Group), moderated by Dorota Sobieniecka-Kańska (Gdansk Business Club), the issues of business responsibility for urban development were raised – also in the context of social potential development. Dr. Andrè Helin spoke about his Danish experience: – Denmark very quickly realised that in order for a country to develop, it is necessary to focus on building a competitive society. Patching economic holes will not bring good results, it is a short-sighted measure. Andrzej Bojanowski stressed that the local government cannot exist without business – together they can build a competitive advantage of a city or region. Marta Moksa pointed to the solitary of an entrepreneur in society, often resulting from the resignation of building relationship. That is why, it is so important to create spaces in which relationships can be naturally established and developed. Dorota Markiewicz-Kubik spoke about the importance of relations within the company: – I am not defined by my position, but rather by what kind of man I am in relation to others. Mateusz Zmyślony noticed that the biggest threat of today's times is the disappearance of relations. We are dealing with an epidemic of loneliness: – It is only up to us whether we want to live like this or change it.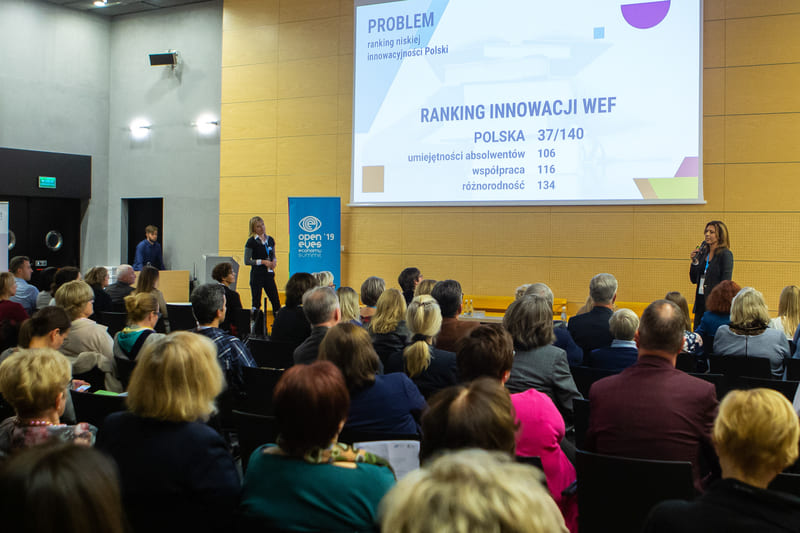 Concluding this part of the conference, Dorota Sobieniecka-Kańska emphasized that we had the opportunity to listen to the leaders in the field of building relations both inside and outside the company: – This citizenship translates into a broader background of functioning in the "organism" of the city. It builds a kind of solidarity that is vital to the social "tissue". The participants demonstrate their good practices in this fundamental issue of CSR.
 The first block was summarized by Ewa Sowińska (ESO Audit) and Robert Krool (LifeSkills).
– I agree with the statement of Prof. Tomasz Szlendak that nowadays there is no space to practice relations and this results in the inability to be together. Prof. Cezary Obracht-Prondzyński also rightly points out that we need a dialogue and even more so we need to learn how to argue beautifully – said Ewa Sowińska as she encouraged: – Let us not be afraid of diversity, let us build trust, as trust lowers the costs of transaction – not only in the literal economic sense. Trust is conducive to the development of universities, businesses and cities – through the development of people. So let us meet and discuss at events such as this one.
A perfect illustration of the situation between building trust and building openness – was emphasized by Robert Krool in his summary: – These are two different strategies that go in diverging directions. Both Prof. Szlendak and Prof. Obracht-Prondzyński colourfully, and above all, concretely, pointed out to misunderstandings in the communication layer of niche sociological groups that "tempt with identity", want to build openness on it, but absolutely do not build trust. It is something absolutely disarming in the light of the past parliamentary elections, yet – hardly surprising – after all, 90 percent of the Polish society comes from peasantry, so anthropologically it is a mistrustful group, but open to new, as emphasized Prof. Obracht-Prondzyński.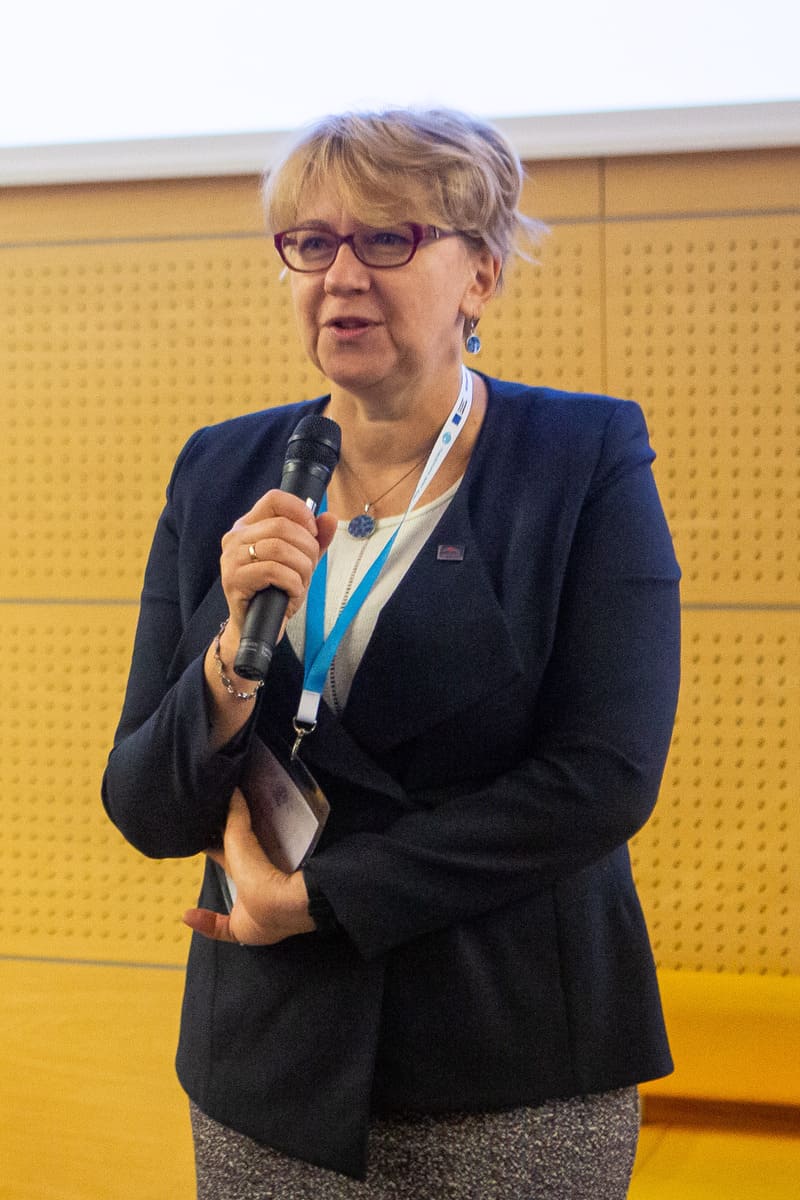 EDUCATION THROUGH RELATIONS – by and between
The second block was opened by Olga Petelczyc (IIA Poland) with a speech entitled "Values Stemming from Organizational Culture":
– 85% of business executives believe that poor organizational culture causes unethical behaviour, 77% agree that culture is crucial in making decisions that are in line with the law and procedures – in line with a study by Duke University. According to the same survey, 54% of respondents would refrain from making a transaction, if they believed that the organizational culture was inappropriate" – she said.
"Between Responsibility and Business – About the New Role of Companies in the Modern World" is the title of Jakub Wojnarowski's presentation (ACCA).
– This year's Chatham House research has shown that young people consider climate change and poverty to be the biggest challenges for the world in 2019, said Jakub Wojnarowski, while demonstrating, in his speech, that business does not have sufficient awareness or does not keep up with these issues: – Companies must be responsible for what happens to us, to the environment, to the climate, to the world. It is up to us, up to our pressure, how big this responsibility will be – he concluded.
Dr. Aneta Chybicka (Culture4Grow) spoke about openness – to novelties, science, diversity – and its importance for cooperation that fosters innovation, in her presentation entitled "The Role of Openness in the Process of Innovation" (Culture4Grow). "From a Business and Personal Development Perspective, Why Are We Waiting for Our Life to Force Us to Change, That Is, What Would We Do If We Weren't Afraid?"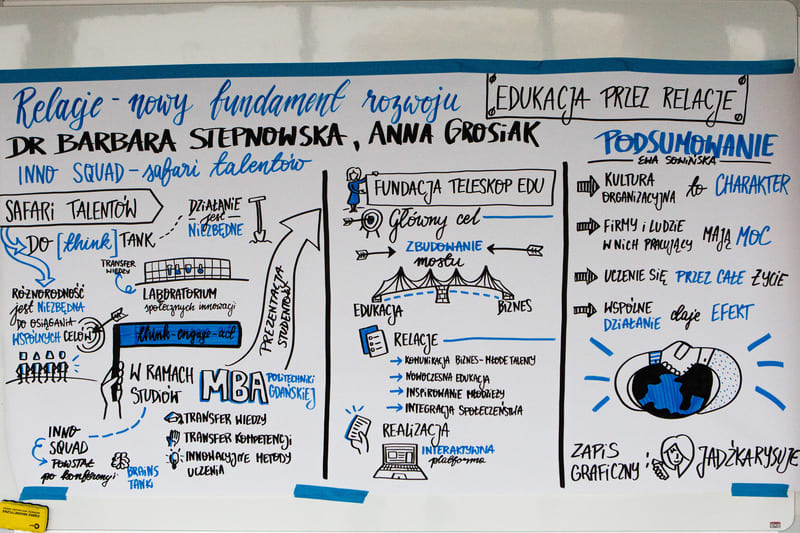 Then the Innovation Squad (IS) took to the stage. Dr Barbara Stepnowska and Anna Grosiak talked about the genesis and idea of the project, resulting from a profound need to combine business experience with social responsibility and create a social movement. IS a team whose mission is to combine the intellectual capital of many people who put the good of humanity and the human ecosystem at the centre of their activities. Innovation Hub for Humanities, a brand built for the MBA Programme of the Gdansk University of Technology, at the Faculty of Management and Economics, became a unique spin-off of IS activities. As part of this initiative, MBA PG students presented the project "TELESCOPE.EDU": – We create a platform that will connect and facilitate building relationships and transfer of knowledge and competences between companies and schools.
Summarizing the second block, Ewa Sowińska emphasized the words of Olga Petelczyc that the culture of organization is the nature of the company and the character of the organization is soft actions with hard consequences. Referring to Jakub Wojnarowski's presentation, she pointed out that business has to take responsibility for how it uses natural resources, as behind every business there are people, therefore they, and so each of us has to take responsibility for what we do, how we do it, and why we do it.
– We need courage to think and act. We need education in relationships. We need projects like the INNO Squad. We need socially important and socially realized activities – concluded Ewa Sowińska.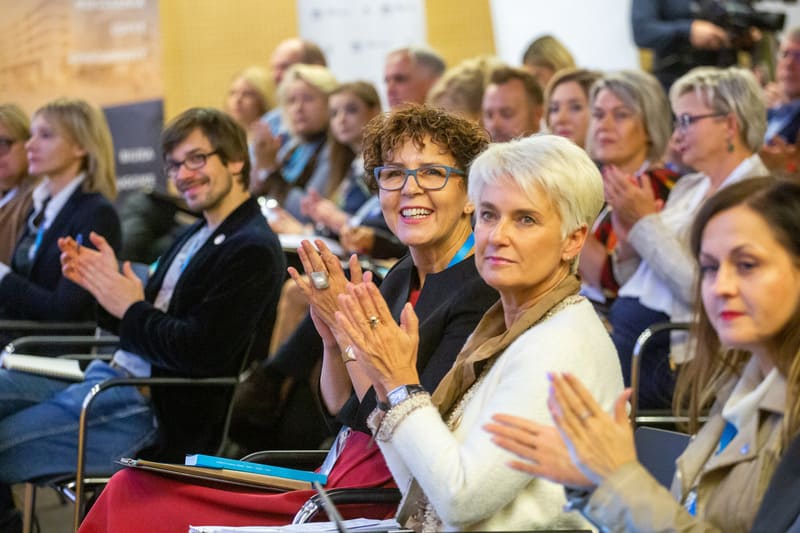 RELATIONSHIP IN IDEA-COMPANY: between man, company and science
The last block was opened by Grzegorz Nawrocki's conversation with Artur Nowak-Gocławski "About Responsibility and Subjectivity in Business Relations". The first one summed it up this way: – The strongest message of this conversation was the need for a real commitment of business to the responsibility towards the community and the environment in which it operates. Not only at the level of words and declarations, but also at the level of decisions and choices made that in the short term may seem to be contrary to economic interests. The interview also included a diagnosis concerning customer relations, which was not very favourable for the financial environment, especially with regard to the topical "subjectivity".
Then, the entrepreneurs from Cracow: Konrad Ogar (WEBimpuls Advertising Agency), Marta Kułaga (Leance), Bartłomiej Świstak-Piotrowski (EAR Experimental Advertising Agency) and Rafał Olesiński (Olesiński & Partners), who moderated the discussion, debated, among others, on the function and importance of trust, reliability and topical relations in building companies and teams, as well as partnerships with customers.
The last conference block was summed up by Agata Kowalska (Chabasiewicz Kowalska & Partners) and Anna Grosiak (INNO SQUAD): – Companies that focus on people do much better. Only happy people achieve success.
The conference "Relations – A New Foundation for Development" was held as part of the Open Eyes Economy on Tour 2019 and the project "Małopolska Open Eyes Economy Hub – foreign promotion of Małopolska's IDEA-COMPANY", co-financed by the European Union from the European Regional Development Fund.

Subscribe To Our Newsletter
Join our mailing list to receive the latest news and updates from our team.