Inauguration Ceremony of two MBA Editions 2019
On 25 October 2019, for the first time in its history, GUT started new two cohorts (XI and XII) of the International MBA in Strategy, Programme and Project Management.
Representatives of the university authorities were present at the ceremony, along with the lecturers, members of the MBA programme council, students, alumnus and friends.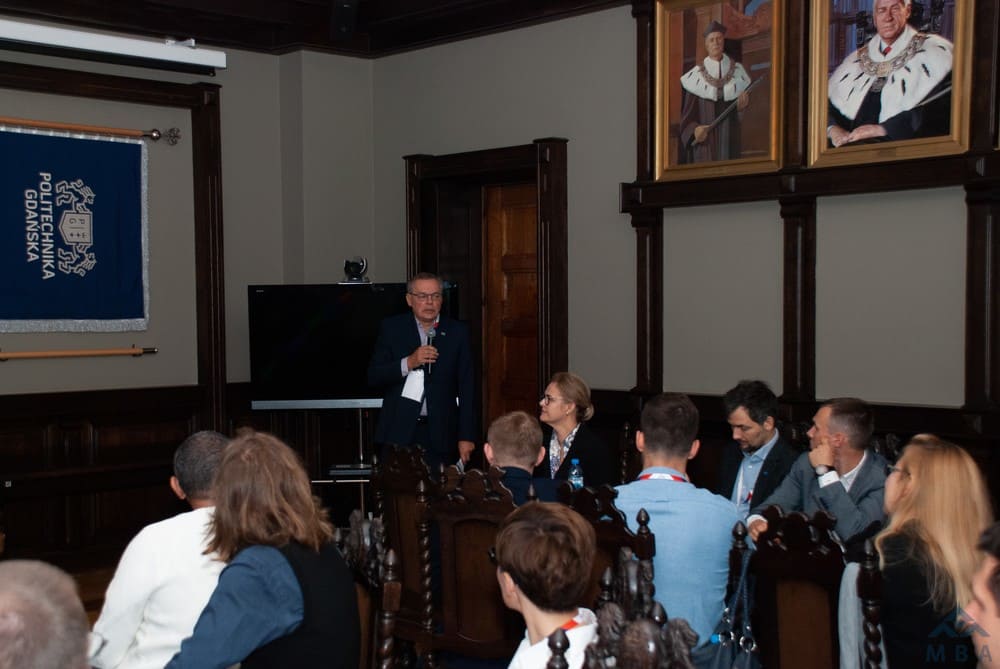 The inauguration was led by Beata Krawczyk-Bryłka (PhD, GUT). Professor Piotr Dominiak opened the ceremony and spoke about the beginnings of the MBA Programme at the Technical University of Gdańsk. Subsequently, Ewa Lechman (PhD, associate professor, and Vice-Dean for Development of the Faculty of Management and Economics) presented the achievements and rankings of the MBA programme and the Faculty of Management and Economics. Both speakers highlighted that this was the first time in the history of GUT that the inauguration ceremony of two cohorts happened in the same academic year.
"Our task as leaders is to turn the volume up for creativity and bring more people with different competencies together and introduce multiple perspectives into play. It´s about: moving the focus from me to we from ordinary to extraordinary, from instruction to inspiration. not the destination that is important, but the journey. And whatever life brings, it is important to experience it. That is the reason why we launched a meaningful platform for network towards challenges of todays and future societies known as Innovation HUB for humanities where students are engage onto socially oriented capstone project.
Undoubtedly, it is a success shaped by upgrading the MBA programme, such as once again gaining the international AMBA reaccreditation for the next 5 years Another strong point was the MBA GUT Programme being ranked in tenth place in the QS Global Executive MBA Rankings 2019." – Barbara Stepnowska (PhD, MBA Director at GUT)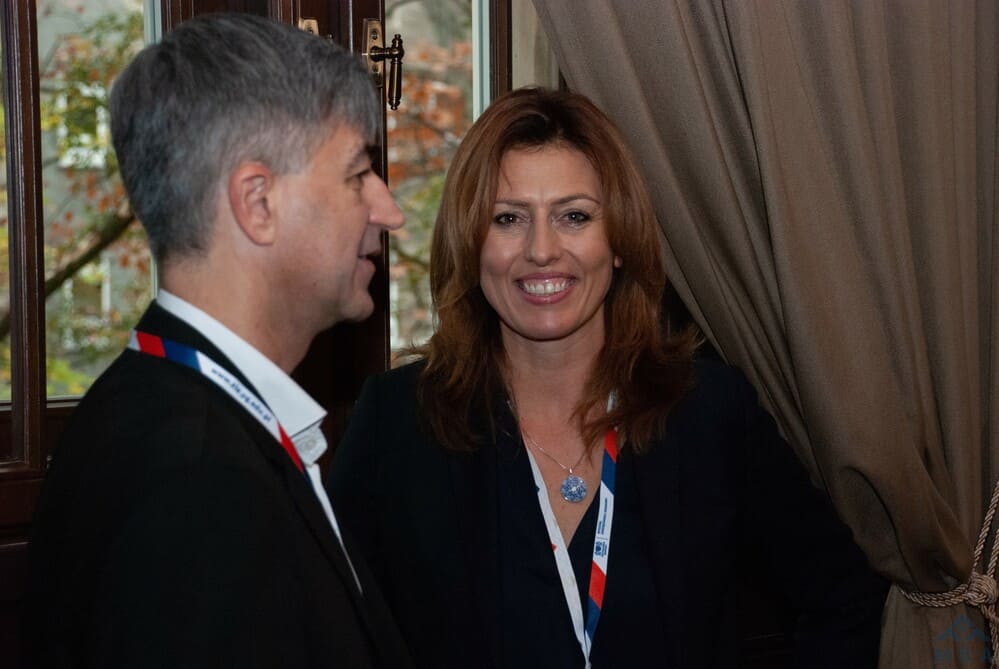 Edward Szczerbicki (PhD, full professor, University of Newcastle, Australia; Faculty of Management and Economics at Gdańsk University of Technology) presented the academic side of "AI vs AI: Intelligence amplification with DDNA". Jan Wyrwiński (Managing Partner at Alfabeat) discussed the business side of startups based on software, telling a story of Alfabeat Venture Capital, which supports founders to make a global impact.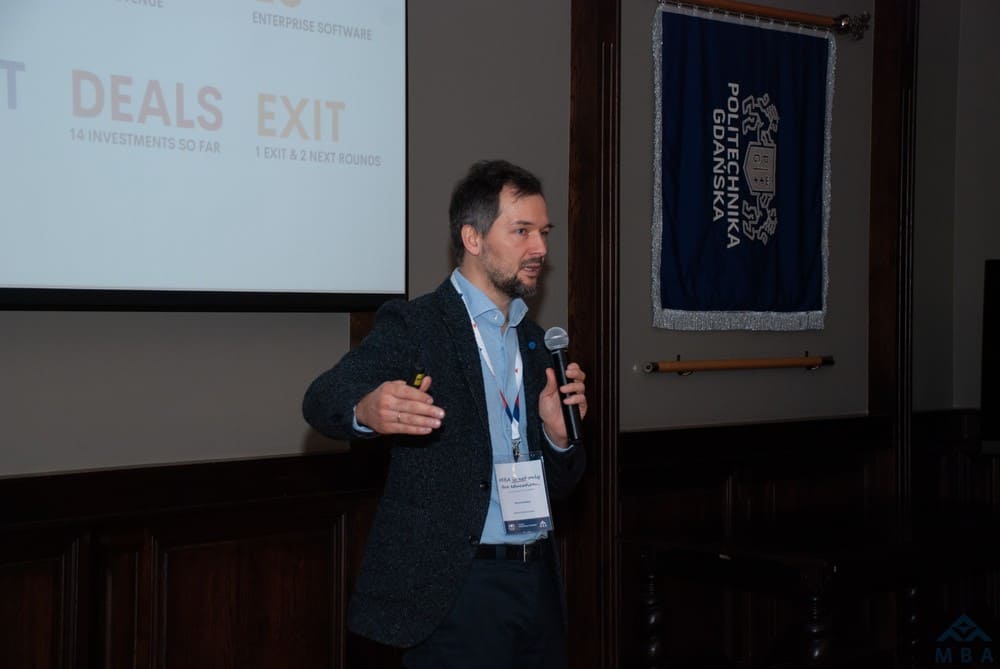 "The world is changing at an ever-faster pace. Much of that change is driven by technology. Out of the 20 highest market cap companies at the New York Stock Exchange, roughly half are tech companies established as start-ups around 20–30 years ago. Moreover, the most exciting IPOs of 2019 are mostly tech companies and/or start-ups. Research and data shows that Central and Eastern Europe are catching up with the US and Western Europe, both as a place of origin for global tech companies/start-ups and as tech hubs generating hundreds of thousands of jobs in this new economic setup. It just might be true that now is the best time to become an MBA student if you come from or live in Central and Eastern Europe. The region has a huge engineering talent pool but has a lot less to offer in terms of professional, seasoned, well-connected managers and executives having a global mindset. This is where you, the future MBA graduates, come marching in." – Jan Wyrwiński.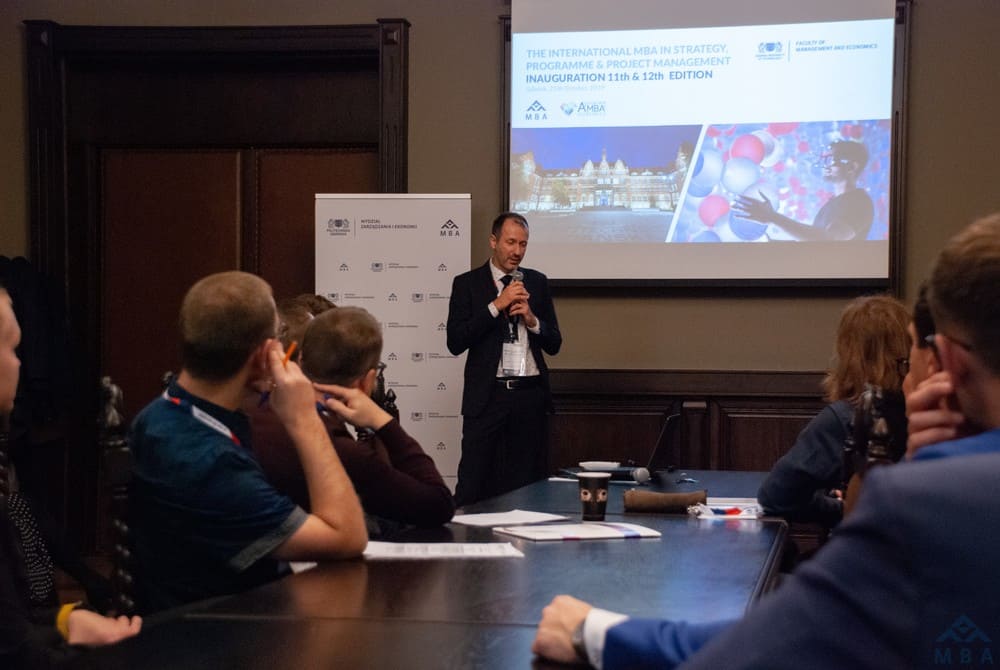 "The MBA studies at GUT really prepared me for the next step in my career. The strong line-up of professors teaching at the program, and the regular exchange of knowledge with my colleagues increased the knowledge and shifted my perspective on many business-related topics. Today, I work in an area that I have always wanted, with a global scope, all thanks to the edge I got from this MBA program." – Matheus Trevizoli Barrachi
There was also time for networking and getting to know each other during the coffee break in the canteen.
We consider the new MBA program for the academic year 2019–2021 to be open.
Vivat Acamedia, vivant professores!
Vivat membrum quodlibet, vivant membra quaelibet,
semper sintin in flore!

Subscribe To Our Newsletter
Join our mailing list to receive the latest news and updates from our team.