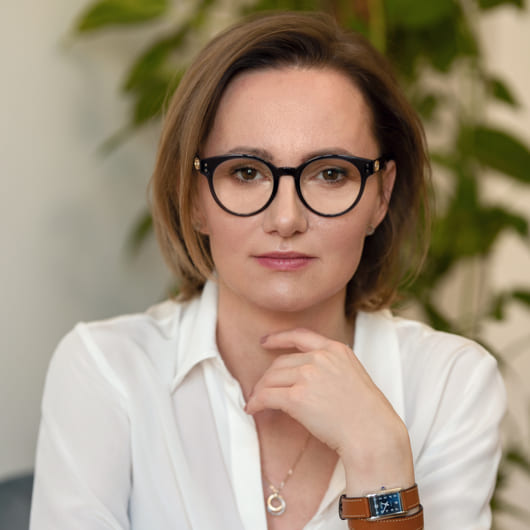 Bio
Ewa Krzemień is an advocate, owner of EK LEGAL law firm, where with the team she delivers legal advice to business clients and owner of gamedevlawyer.pl – a website dedicated to the legal side of gamedev. She specializes in intellectual property law, business law and white-collar crime law. She is also listed as a professional representative before EUIPO, the European Union Intellectual Property Office in Alicante.
On a daily basis, she provides legal support to producers of computer games, creators of new technologies, representatives of creative business and people who pursue their ventures with passion and values.
She has experience in providing legal services to international corporations and working in the structures of capital groups. She tries to transfer good practices and high legal standards also to the sector of small and medium-sized enterprises.
Ewa is a law graduate from the Jagiellonian University in Kraków. She held a scholarship at Tilburg University (The Netherlands) and graduated from the School of American Law in cooperation with the Catholic University of America Columbus School of Law in Washington DC (USA). She completed postgraduate studies in Prevention of Economic Crime, Fiscal Crime and Property Crimes, as well as Postgraduate Studies in Intellectual Property Law, both at the Faculty of Law at University of Warsaw.
Business Law
This course aims at developing understanding of business law environment where conducting a well-designed and steadily growing business requires a few elements to be constantly taken into consideration – law is one of them, especially taken from the European and international perspective.
At the end of the lecture, students should be equipped with knowledge and the relevant tools to understand business setting, to plan adequate strategy, to predict and assess possible consequences of any strategic adjustments – all these from a legal point of view.
The knowledge should encompass a wide array of aspects including not only explicit legal issues such as legal forms of doing business or elements of contract law but the focus will also be on equally important aspects such as: managing intellectual property in the organization; taking care of its competitive advantage; risks of white collar crime while running a business and current requirements in the field of sustainable development.
Based on the above, students will be able to implement their understanding of the organizations as well as variety of business law rules to the changing business environment they plan to operate in, with the most appropriate manner that supports ethical business co- operation with the safeguard of the core of the business itself as well.