XV MBA Inauguration Cenremony
We are honored to announce that on 18th November 2022 will take place the XV MBA edition Inauguration of the International MBA in Strategy, Programme and Project Management. On the same day we celebrate 15 years of MBA at Gdańsk University of Technology.
We are happy to welcome 26 new MBA Students from different sectors: IT, production, automotive, shipbuilding, energy, FMCG, petrochemical, services, public sector, telecommunication, pharmaceutical and foreign countries.
Among the invited guests there will be business and academic representatives, Students and Alumni of MBA's studies. After the time of pandemic and still strict time in our neighborhoods we are starting the 15th edition of MBA Programme because we believe that the world, more than ever before, needs the value of an educated talent pool, open-minded and conscious managers. Meeting the needs of international business environment is still in the core of our mission. We create value by joining talented people, in order to develop effective leaders and entrepreneurs and to have a significant impact on the growth of industries and the economy through values-led experience.
During the ceremony we would like to draw attention to the nobility of management.
The special guest Jacek Pastuszka will provide the power speech entitled: "When practiced well, management is the most noble of professions."
Executive Vice President, Carlsberg Group Jacek Pastuszka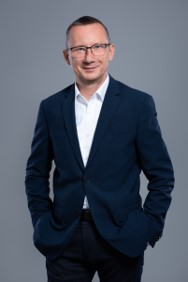 Jacek Pastuszka is a seasoned business executive with more than 30 years of hands-on senior management experience in four, global organizations – Procter & Gamble, Danone, AIG and Carlsberg. Jacek has a strong track record of building well-functioning management teams and grooming talent for development. He amassed and mastered a unique management toolbox that highlights and leverages the organizational capabilities and individual aptitudes to drive business performance in a consistent and sustainable way. Jacek actively shares this toolbox now with mentees, MBA students and consulted businesses.
The ceremony is organized in Senat Hall of Gdańsk University of Technology. The Agenda of the Inauguration ceremony is presented below.
10:00
Official Opening of the Ceremony: "Gaudeamus Igitur"
10:05
• Rector Prof. Ph.D., D. Sc., Eng., Corresponding member of the PAS Krzysztof Wilde
• Dean of the Faculty of Management and Economics, GUT Professor Małgorzata Gawrycka Ph.D., D. Sc.,
• MBA Director Beata Krawczyk-Bryłka, Ph.D.
10: 35
Alumni Panel
• Karolina Supińska – X MBA Edition
• Karim Elsweefy – XI MBA Edition
• Katarzyna Romantowska-Jaskólska – I MBA Edition
11:05
Inspirational Speech
"When practiced well, management is the most noble of professions."
Executive Vice President, Carlsberg Group Jacek Pastuszka
11:35
Time for photo
12:00
Lunch

Subscribe To Our Newsletter
Join our mailing list to receive the latest news and updates from our team.